Tetsuya SAGARA
"Sagara Design Office inc."Director
Artist (painting / make-up / calligraphy)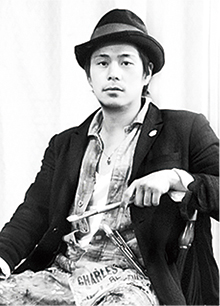 Born in Hiroshima Prefecture, Japan in 1980.
He started Calligraphy from a young age. After graduating from a hair & make-up school in Osaka,
He started working at "Shu Uemura Cosmetics Inc." in 2001.While at "Uemura Shu", he worked as a hairdressing instructor, as an advisor to teachers and taught make-up theories and techniques in West Japan.
He resigned in 2007 and moved to France.
While in Paris he participated in wide range of activities such as jobs in bridal makeup, Paris Fashion Week,
TV make-up and teaching courses in make-up at fashion schools. After a year and a half in Paris, he moved back to Japan in 2008 and started working in Tokyo.
He established a mural painting organization, "Flying Kuro" and now works at "SAGARA Design Office inc."
which he established. After working in make-up, producing events at make-up vocational schools, mural painting, product design, live paintings, calligraphy, etc he has become versatile.